Phone Geeks Update Regarding Coronavirus
NEWS | MAR 18, 2020
We take seriously the impact the coronavirus (COVID-19) pandemic is having on lives and communities around the world and in our own backyards. The health and safety of customers and team members is a top priority across phone geeks locations, and we are actively working to keep the phone geeks experience as seamless as possible, while implementing enhanced health and safety measures to protect team members and the customers we serve.
We are following cdc recommendations, as well as closely monitoring news, information and local rulings as the situation evolves by the day, hour, and minute. We are making decisions on a store-by-store basis based on federal, state and local guidance to do what is best for their customers, employees, and communities.  
Our local pages are being updated as quickly as possible to reflect temporary closures, changes to operating hours, and any other pertinent information. Some stores are also offering services like curbside drop-off and pick-up or mail-in options to keep you safe. Please contact your local phone geeks store for the most up-to-date options and information. 
We have implemented detailed public health guidelines for all of our corporate stores, and have shared those guidelines with our franchised locations to implement in their respective stores. Those guidelines include guidance to do the following:
increase hand-washing frequency
clean all workspaces and high-touch surfaces at regular intervals
thoroughly sanitize all devices upon receipt and return

 
Team members are asked to remain home if they have any sign of illness, and we are reinforcing preventative practices across all stores. We believe public health is a shared responsibility and are committed to doing our part to keep our communities safe. We ask that customers exercise the same level of caution and diligence when it comes to personal health and hygiene so that we may all stay safe and healthy. 
We will update this website with new information as it becomes available. Thank you for your cooperation as we deal with this unprecedented challenge.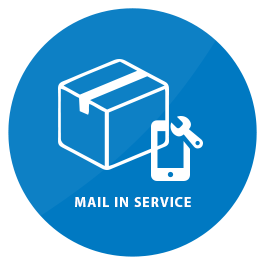 If you are taking procaution and working from home. You can mail in your Laptop or phone that needs a repair, and will ship it back back to you fixed Click here to start.